Overview: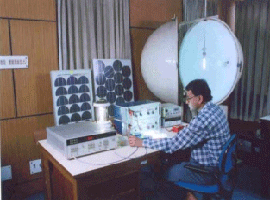 The use of solar and Photo Voltaic appliances is increasing in day-to-day applications. Many manufactures are producing solar panels and PV cells. Keeping in view, STQC laboratories have established a special test facility for performance evaluation of solar panels and PV cells.
Recognitions and Accreditation:
The state of the art test facilities are recognized and services utilized by major manufactures namely Central Electronic Ltd., Moser Bear, etc....
Services Offered:
The testing is performed under standard/different test conditions and Qualification testing of PV modules as per the Standards: IEC 61215, IEEE Std 1262-1995, BIS14286: 1995. The test facilities are available at ERTL (East) Kolkata, ETDC Bengaluru, and some more laboratories. Products tested include Solar PV based Systems especially PV Lighting Systems, Solar Lanterns, Batteries, etc.